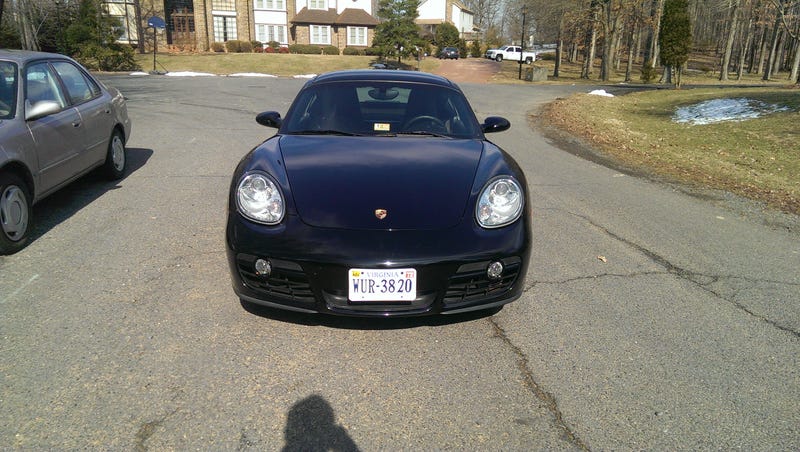 February 13, 2013: A good friend of mine who works as a tech for a local BMW dealer tells another good friend of mine, with whom I worked at the time, that they just got in a clean E36 M3 convertible.
February 14, 2013: I pull up to my parents' house in an M3 convertible and start doing some serious rationalizing. I'd been looking to get rid of my Jetta for a few months since getting a good job, because I wasn't in a sorority in college. I'd wanted, looked at, and driven a few examples of a newer model 3-series, but the toddler in my head took over pretty quickly once I had driven the M3. Happy Valentine's day to me. She turned out to be a lot like my last girlfriends too: She was loud, high maintenance, maybe a little old for me, and a ton of fun with the top off.
Fast forward a year, February 2014. I'd driven a few Porsches, because to me they are the automotive equivalent of every perfect automotive metaphor I've ever heard. Naturally, I'd befriended a salesman at my local Porsche Store in Arlington, and he was a nice younger guy who let me drive some of the fun stuff on the lot. Also naturally, when he called saying they really wanted to sell a certain 2008 black on black, manual, low-mileage Cayman and were willing to talk deals, I took a drive over on the 27th of the month.
Mmmmm Alcantara... The Sofia Vergara of automotive textiles.
Selling sports cars to car enthusiasts isn't fair. It's like selling heroin to heroin addicts, or Armani exchange t-shirts in New Jersey. The numbers (which I'd looked at and been OK with ahead of time) all started to blur like some dream sequence in a Johnny Depp movie, some men were talking about credit and finance and monthly payments and gap insurance and some other stuff, as I sat there, eyes glazing over, sloppily scrawling my name over some papers that they wanted me to autograph or something.
An hour later, I'm driving home in a Porsche. I'm 23. Driving a Porsche. My Porsche. Shit. When I got home, I had kind of an "Oh God, what have I done" moment. My roommates, suddenly very concerned about my ability to pay rent, were a little dubious. For the next few days, so was I. As it turns out, I am an excellent rationalizer. I remembered the things the nice people had told me while I had been hypnotized by dreams of nailing apexes on backroads and flat-6 induction noise… the monthly payment was actually quite low. I had just purchased a mid-engined Porsche with under 50,000 miles for about the price of a no-option Toyota Camry SE "Sport."
Why doesn't everybody just buy a Cayman? It even gets 25 mpg, like a Camry. Except, unlike a Camry, it has more character than a dishwasher.
Another month. I'm a firm believer that at the end of the day, a car is a car. A car is meant to be driven, to be used. So I took mine camping in rural Virginia. First off, it's a beautifully comfortable car. It's as quiet and docile and comfortable as anything when it needs to be. Great for distances on the highway. It's even easy to drive in traffic; the clutch is quite light with a short-ish throw but great feel. And the cable shifter… odd at first, but great after you adjust to it. Off into the Shenandoah mountains it went, carrying gear for a winter camping trip (hint: more than for a summer trip- though someone else did have to bring the food cooler) and enough alcohol to kill most of the local town, population 14. Oh and by the way, our mountain roads? They are that good.
Luckily, the original owner had opted for the $185 colored Porsche crest center caps option... not sure I could have been without it.
It's odd, however, driving something that gets this much attention in the way it does. I picked up a good female friend in it, and she thought that it was both brand new, and cost six figures. Ha. This is the mixed blessing: to non-enthusiasts, they all look the same, so people have no idea it's 6 years old, and they are all perceived as costing about a thousand million. The thing I like about this particular car is its simplicity: It's light on options, so it lacks most common modern luxury features. It's a bare-bones driver's car that happens to be surprisingly practical; not a luxury car or hardcore supercar. With only 245hp/200tq, it's not even fast. It just looks that way to people who don't know. Let's just hope she's lower-maintenance than the last girl.